Knitting is a method of constructing fabric by using a series of needles to interlock loops of yarn.
Lengthwise rows of these loops, comparable to the warp yarn in woven goods, are called wales. Crosswise rows, comparable to filling yarns, are known as courses.
There are numerous similarities in knitting done by hand and machine, but there are also some marked differences.
Most cotton is knit on circular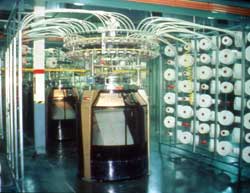 machines which have needles fixed to the rim of a rotating cylinder. As the cylinder turns, the needles work their way from stitch to stitch producing a tubular fabric. Its width is regulated by the size of the cylinder, which usually ranges from 9 to 60 inches in diameter.
A hand knitter uses two needles forming one stitch at a time.
Depending on the width of fabric desired, a modern knitting machine might use over 2,500 needles.
Instead of a single cone of yarn, a knitting machine may have up to four cones per inch of fabric width. For example, a machine with a 32-inch cylinder can have over 2,700 needles and 128 cones of yarn feeding simultaneously. These are typical statistics for a machine used in making underwear knits, but figures vary according to the type of machine used and the fabrics produced.
The flat knitting machine is another basic type. Designed with a flat bed, it has dozens of needles arranged in a straight line and produces a knit fabric that is flat, similar to woven fabric.
A flat knitting machine makes over one million stitches a minute, and can be set to drop or add stitches automatically in order to narrow or widen the fabric at certain points to conform to specific shapes.
Knitting machines can be programmed to produce a wide variety of fabrics and shapes.