Cotton producers expend extra efforts to minimize soil erosion. Cotton is sensitive to wind-blown soil because the plant's growing point is perched on a delicate stem, both of which are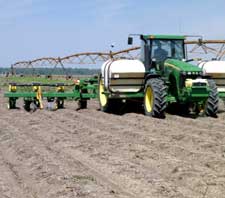 easily damaged by abrasion from wind-blown soil. For that reason, many farmers use minimum tillage practices which leave plant residue on the soil surface thereby preventing wind and water erosion.
Conservation tillage, the practice of covering the soil in crop residue year 'round, is common in windy areas. A growing number of producers also are moving to minimum tillage, or a no-till system, to reduce soil movement. In the rain belt, land terracing and contour tillage are standard practices on sloping land to prevent the washing away of valuable topsoil.