Planting is accomplished with 6, 8, 10 or 12-row precision planters that place the seed at a uniform depth and interval. Young cotton seedlings emerge from the soil within a week or two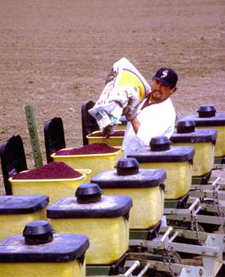 after planting, depending on temperature and moisture conditions. Squares, or flower buds, form a month to six weeks later and creamy to dark yellow blossoms appear in another three weeks. Pollen from the flower's stamen is carried to the stigma, thus pollinating the ovary. Over the next three days, the blossoms gradually turn pink and then dark red before falling off, leaving the tiny fertile ovary attached to the plant. It ripens and enlarges into a pod called a cotton boll.
Individual cells on the surface of seeds start to elongate the day the red flower falls off (abscission), reaching a final length of over one inch during the first month after abscission. The fibers thicken for the next month, forming a hollow cotton fiber inside the watery boll. Bolls open 50 to 70 days after bloom, letting air in to dry the white, clean fiber and fluff it for harvest.