The Cotton Foundation Board of Trustees approved funding for nine general research projects totaling $212,000 for 2019-20. Included are studies related to pest management, sustainability, regulatory issue information gathering, plant protection products re-registration, risk data updating and education.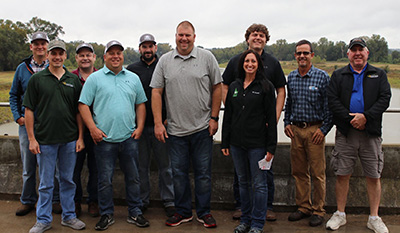 Farmers from North Dakota and Idaho saw agricultural operations in the Mid-South as part of the Multi Commodity Education Program, a Foundation special project.
Foundation trustees also elected officers for 2019-20. Paul Ollerton, a Casa Grande, AZ, producer, was elected Foundation chairman and John Willis, a Brownsville, TN, producer, elected president. Other elected officers are: Gary Adams, executive vice president; Bill Norman, executive director/secretary; Doug Rushing, allied industry trustee with Bayer, treasurer; and Drew Davis, assistant treasurer.
Other Foundation trustees elected for 2019-20 include producers: Neal Isbell, Muscle Shoals, AL; Jon Whatley, Odem, TX; and Dean Calvani, Carlsbad, NM; and allied industry members: Andrew Lauver, Syngenta; Matt Rekeweg, Corteva AgriSciences; Ranjit Nair, John Deere; Burleson Smith, BASF; Chris Reat, FMC; Kelly Fenner, Seal Transportation; and Joe Thomas, Lummus Corporation.
Multiple Foundation member firms continued to sponsor special projects. Through the Foundation, assistance also continued for vital NCC communications vehicles, including the Cotton's Week newsletter. In addition, the Foundation's underpinning of the NCC's web server made it possible for the NCC to continue posting valuable educational materials, including streaming video, for industry members.
Several Foundation members also support the NCC-coordinated Beltwide Cotton Conferences and various functions of the NCC's Annual Meeting.