The Cotton Foundation Board of Trustees approved funding for 10 general research projects totaling $197,000 for 2018-19. Included are studies related to pest management, sustainability, regulatory issue information gathering and education.
Some Foundation member firms continued to provide grants over and above their dues to fund special projects such as the Producer Information Exchange, a program that celebrated its 30th year in 2018 with a grant from Crop Science, a division of Bayer.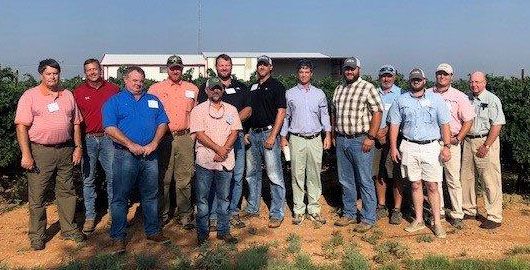 Mid-South cotton producers observed operations in Texas as part of the 30th year of the Producer Information Exchange -- the longest-running Foundation special project.
Several Foundation members also support the NCC-coordinated Beltwide Cotton Conferences and various functions of the NCC's Annual Meeting.
Through the Foundation, assistance continued for vital NCC communications vehicles, including the Cotton's Week newsletter. In addition, the Foundation's underpinning of the NCC's web server made it possible for the NCC to continue posting valuable educational materials, including streaming video, for industry members.