Cotton Facts
A bale of cotton weighs about
500 pounds
The U.S. cotton industry generates about
200,000 Jobs
The amount of cotton used to print $1 bills per year is typically
4,356,000 lbs.
Member Spotlight
Ronnie Lee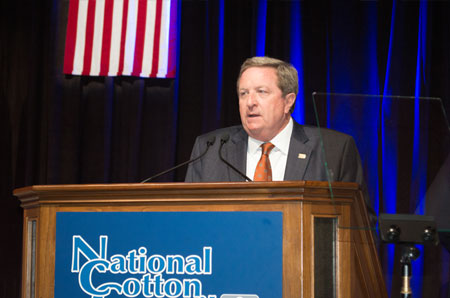 National Cotton Council Chairman Ronnie Lee is a busy man with a passion for agriculture. The Bronwood, Ga., producer has long been active in the industry's central organization, serving as a NCC delegate from 2003-2016, as a NCC director in 2015 and as the NCC's vice chairman in 2016. In 2014, he served as an American Cotton Producers vice chairman representing the Southeast. He currently is a Cotton Incorporated director.
As the managing partner of Lee Farms, Ronnie raises cotton, corn, peanuts, small grains, hay, pecans and cattle in three Georgia counties.
Lee owns and operates McCleskey Cotton Company, a ginning and warehousing operation with locations in Bronwood and Albany. His gin is an owner of Chickasha of Georgia. He also owns a trucking company, a flying service and other agribusinesses in which his three sons, Ron, Chandler, and Neil, are actively involved.