Textiles Thrive On Cotton
Cotton textiles touch every aspect of our lives.
For years, cotton clothing, home furnishings and industrial goods have enhanced our quality of life by providing comfort, expression and individuality. From towels to T-shirts, from bedding to blue jeans, cotton surrounds us on a daily basis.
The National Cotton Council of America (NCC) is proud to say that cotton is playing an even greater role in our every day lives — and is an integral part of the U.S. textile manufacturing sector's rapid growth. For example, cotton is the dominant fiber in apparel, having captured two-thirds of that market; cotton towels remain enormously popular with consumers; and 100 percent cotton sheets are regaining prominence in the market. This helps explain why U.S. manufacturers are now using more than 5.5 billion pounds of cotton annually — the most since 1942.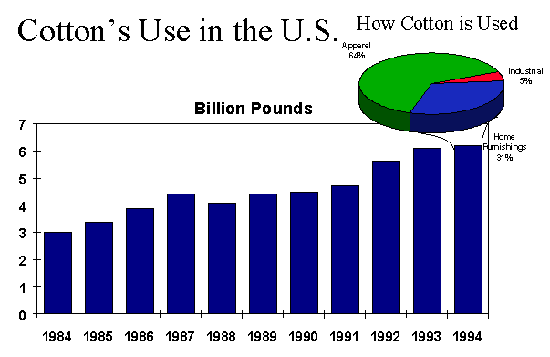 The strong demand for cotton products also explains textile manufacturing's extensive employment and economic benefits. Cotton undergirds a textile sector that provides jobs in all 50 states, employing more people than any other industry — more than autos and more than steel. Textile manufacturing creates jobs in industries that supply mills with equipment and services. Spending by textile manufacturing employees supports local businesses and provides larger tax revenues that create public sector jobs. Economists report that manufacturing jobs create three times as many support jobs as a service job and four and a half times more than a retail position.
A combination of important factors are responsible for the doubling of U.S. cotton production and offtake since the mid-80s:
well-funded promotional programs,

a high-quality product improved through research,

the best service and marketing system among the world's cotton producing countries

a government program that, for the first time, enabled US cotton to be price competitive in the global market under virtually any supply/demand conditions.
All of these are vital to U.S. cotton's exceptional progress.
U.S. growers produce the world's highest quality cotton.
Since the mid-80s, the fiber produced by the U.S. cotton grower has undergone an enormous transformation. U.S. upland cotton is longer, whiter, finer, stronger and purer than any ever grown. These changes result from an effective communications effort among textile manufacturers, cotton growers and seed breeders. Importantly, cotton fiber quality improved while yields continued to increase.
Premium cotton fiber quality is essential to high-tech spinning operations. Technologically advanced equipment requires fiber that spins into consistent, high-strength yarn at speeds unheard of just 15 years ago. As a result, textile mills now can spin nearly 600 pounds of cotton into yarn per spindle each year. Ten years ago, each spindle only transformed about 200 pounds of cotton.
As spinning speeds increased, perhaps the greatest demand on fiber was to increase strength. U.S. cotton's strength increased to an average of 29.0 grams/tex in 1995 from 26 in 1984.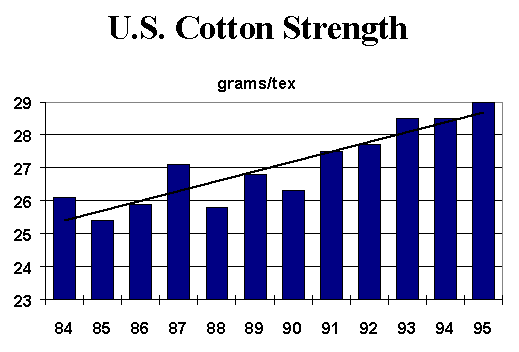 Fiber length also made great strides. Just 10 years ago, the average cotton fiber was 1 and 1/16 inches long. Today, the average U.S. cotton fiber length is 1 and 3/32 inches.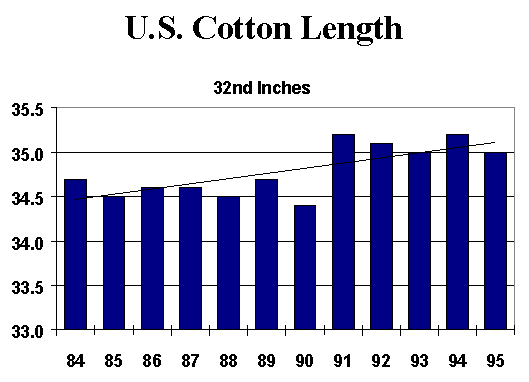 The longer fiber allows for the application of more twist during spinning. The increase in twist produces yarn and fabric strong enough to weave such high quality cotton products as pinpoint fabrics for dress shirts.
Fiber fineness, also known as micronaire, and color qualities increased as well. Micronaire is an important factor in determining the fineness of a yarn. Improved color makes the job of dyeing the yarn much easier. Most U.S. cotton now classes as a white grade, the easiest fiber to dye, as compared to spotted or tinged grade. A comparison of the classing data from the last 10 years illustrates that the U.S. has truly become a "one-stop" supermarket of cottons. U.S. cotton growers now produce a tremendous amount of long, white cotton.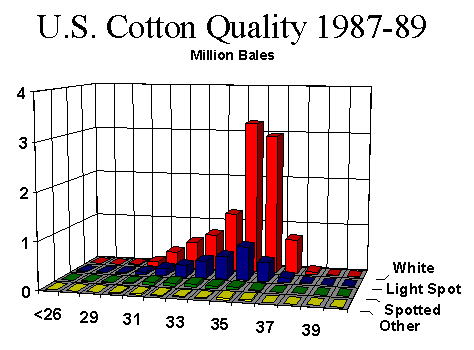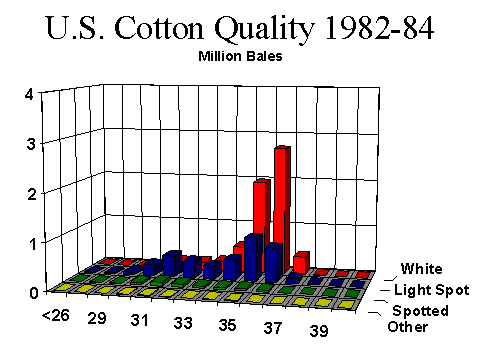 U.S. textile manufacturers' efficiency has increased dramatically.
The textile industry transformed its capabilities by investing almost $2.5 billion annually since the early 1980s. Mills now offer a wider variety of high quality, competitively priced products in a timelier manner.
The number of actual spinning positions in mills fell from 17 million to less than 7 million in a 10-year span. Production of cotton per spinning position, however, increased to nearly 600 pounds, tripling the rate of a decade ago.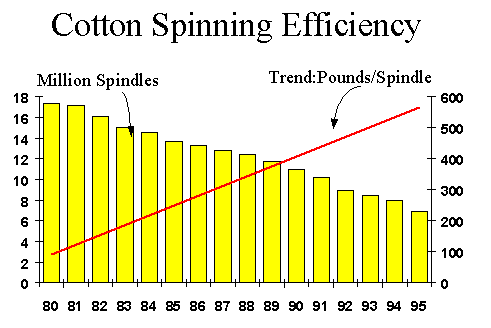 Furthermore, the distribution of spinning methods underwent a substantial change. Ring spinning accounted for more than 95 percent of spinning capacity in the early 1980s. Since then, use of open end rotors has grown steadily, increasing to nearly 12 percent of the total spinning capacity. Open end spindles account for 60 percent of production, but ring spindles are necessary to produce high count yarns used in fine, lightweight fabrics such as 250-count sheeting.
Like the improvements in the spinning process, weaving benefits from similar strides in technology, productivity and efficiency. Before the 1980s, shuttle looms dominated the industry, but over the last decade the more efficient shuttleless looms captured two-thirds of the weaving capacity, accounting for 100 percent of new investment. The new shuttleless looms produce up to three times more fabric per loom without compromising quality. These looms allow for quick style change, shorter fabric runs and more variation of style for consumers without sacrificing mill productivity.
Expanded Markets: Programs and Policies
Effective promotion programs and market-oriented farm policy have increased cotton markets.
Cotton Incorporated's research and promotion program is an integral force in improving and expanding the U.S. retail market for cotton products. Since 1970, vigorous consumer promotion of U.S. cotton has strengthened cotton's domestic market share. In 1976 and 1991, successful beltwide referenda produced increased support for this producer-funded, self-help program by establishing a uniform, non-refundable checkoff to support cotton research and promotion activities conducted by Cotton Incorporated. Currently, an assessment on all U.S. and imported bales of cotton, as well as on the foreign cotton content of imported cotton textiles and apparel, funds the program.
Cotton Council International, the NCC's export promotions division, leads the way in promoting U.S. cotton and cotton value-added products in overseas markets. Since 1990, textile exports have been the single greatest catalyst in the expansion of textile mill use of cotton. In five years, U.S. exports of cotton products added 1.5 million bales to mill use. U.S. exports of cotton and cotton value-added products were valued at $8.1 billion in 1995, and in that year the U.S. exported the equivalent of 12 million bales of cotton in raw fiber and value-added products.
The cotton marketing loan program was established in 1985, and continuing refinements to the program have been added. In 1990, competitiveness provisions added to the cotton marketing loan assured U.S. textile mills access to competitively priced cotton when compared to recognized international price standards. Competitive prices mean that U.S. mills can realize the full advantage of their substantial capital investment while using domestically produced cotton. This occurs despite the pricing behavior of artificial non-market foreign cotton economies. In the face of daunting government-supported foreign textile competition, the U.S. textile industry recovered to position itself as a world class competitor. The principles incorporated in 1985 and 1990 farm law were reaffirmed in 1996 legislation.
The coming together of (1) extremely effective market-building activities for cotton and cotton products, (2) a U.S. cotton program which ensured competitively priced cotton to the textile mills and (3) domestic investment by the U.S. textile industry produced an industry success story unmatched in the U.S. manufacturing sector.
Heightened consumer demand makes cotton one of America's most valued raw materials.
Textile mill use of all fibers remained static from 1973 to 1983, with cotton use declining from 31.4 percent of all fiber in 1973 to 25.5 percent in 1983. Textile mill use of all fibers then experienced steady growth from 1984 to 1994, but cotton use rose dramatically — increasing 82.4 percent. Cotton used in U.S. textile mills increased 2.2 billion pounds from 2.7 billion to 5.5 billion in the last decade. At the same time, use of all other fibers increased 2.4 billion pounds from 8 billion to 10.4 billion.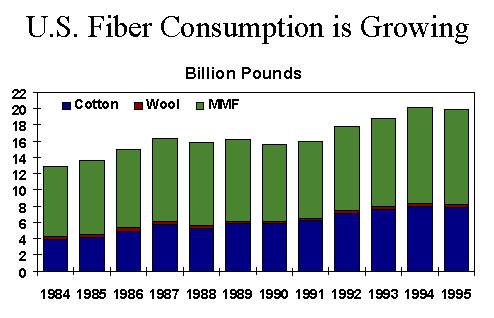 Between 1984 and 1994, production of 100 percent cotton applications more than tripled, while use in blends grew 15 percent. Apparel still accounts for the majority of cotton used, but the volume of cotton used in home furnishings increased dramatically. Consumer demand for 100 percent cotton products, specifically comforters, bedspreads and pillows, accounts for much of that growth. Towels are almost exclusively 100 percent cotton.
Cotton knits are at the core of today's designer lines. Circular knits, such as T-shirts, lead the way, with cotton used in knits growing a spectacular 180 percent since 1984 to account for one-third of cotton fiber consumption.
Cotton in woven fabrics more than doubled between 1984 and 1994. Within the woven category, production of denim increased by 75 percent.
Not only has there been growth in domestic retail demand for cotton, the fiber has become a mark of quality worldwide. Through investment in promotion, cotton's position in retail sales at home and in export markets has reached new heights.
Reducing response time between the cotton grower and consumer is a U.S. textile industry priority.
Cotton is produced in a six-month period, while mill consumption is continual. Moving cotton from the farm to the mill is critical. The cotton industry uses technology to automate the flow of cotton from source to end-market.
Electronic Data Interchange (EDI) systems help the mills and warehousers better communicate their delivery needs. Bar codes and scanners help locate specific bales of cotton, allowing manufacturers and shippers to work together to create laydowns in the delivered cotton and reduce warehousing at the mill.
The industry is creating better communication and improving its product marketing through Quick Response (QR). The QR strategy reduces the time between consumer demand and production.
QR also enables manufacturers to hold lower inventories, resulting in lower costs to consumers. Manufacturers' inventory control also improves through Just In Time (JIT). The JIT strategy allows the retailer to communicate specific inventory needs quickly. Items that sell well are replenished quickly, allowing maximum return on retail shelf space. The JIT/QR link between the manufacturer and retailer, which relies on computer and scanner systems, provides the data necessary to complete a circle of timely response.
The U.S. textile industry is a forerunner in environmental preservation.
Environmental awareness is at an all-time high.
The movement to environmentally safe products depends on more than the textile mill; it begins with the cotton grower. Farmers are now using integrated pest management, which reduces the amount of plant protection materials. This puts cleaner fiber into the production line. In addition, some organic and naturally colored cottons are being grown.
Mills' dedication to the environment is far-reaching and in harmony with standards set by many popular retailers. Many of the larger mills have waste treatment facilities and are eliminating underground waste storage tanks. In addition, mills recycle and reuse cotton waste, bale packaging and other material such as cardboard and plastic. Cotton waste is recycled into yarns and fabrics and used in products ranging from mattress batting to U.S. paper currency.
Mills' strictly monitor air emissions and ambient air quality to meet state and federal regulatory guidelines. A typical textile mill recycles its entire air supply every two minutes.
Commitment to continuing as the world's principal cotton supplier is a top priority of the U.S. cotton industry.
The industry supports (1) active programs which encourage environmental improvement from cotton fields to textile mills; (2) ongoing research in every aspect of cotton production and processing; and (3) extensive promotion of raw cotton fiber and retail products. Public funding supports research and education through USDA, state universities and Cooperative Extension services. This is accomplished with unparalleled private and public funding for implementation, research and market promotion and development with funds totaling over $250 million.
This tremendous commitment to cotton gave the textile industry the confidence to invest $25 billion in plant and equipment in the U.S. rather than in other cotton-producing countries over the past decade.
Glossary *
Bale
A 500 pound package of staple cotton compressed for efficient handling and shipping.
Cotton fiber
Soft fiber obtained from the boll of the cotton plant.
JIT
Delivery of a product or service and the information concerning that product or service at a place and time as requested by the customer.
Knitting
A method of constructing fabric by interlocking series of loops of one or more yarns.
Laydown
The selection of specific bales to feed into the production line.
Length
The linear measurement of the cotton fiber, usually ranging from one inch to one and a quarter inch.
Loom
A machine for weaving fabric by interlacing a series of vertical, parallel threads with a series of horizontal, parallel threads.
Micronaire (mike)
The fineness of a fiber. Measured by the fiber's resistance to air flow.
Quick Response
A comprehensive business strategy that promotes responsiveness to consumer demand, encourages business partnerships, makes effective use of resources and shortens the business cycle throughout the chain from raw materials to consumer.
Textile
Originally, a woven fabric; now applied generally to any one of the following:
Staple fibers and filaments suitable for conversion to or use as yarns, or for the preparation of woven, knit or nonwoven fabrics.

Yarns made from natural or man-made fibers.

Fabrics and other manufactured products made from fibers as defined above and from yarns.

Garments and other articles fabricated from fibers, yarns or fabrics when the products retain the characteristic flexibility and drape of the original fabrics.
Shuttle
A boat-shaped device, usually made of wood with a metal tip, that inserts the yarn during the weaving process.
Shuttleless loom
A loom in which some device other than a shuttle is used for yarn insertion.
Spindle
The long thin rod used for spinning and holding the spun thread when spinning on a wheel or machine.
Spinning
Process of drawing and twisting fibers together to produce thread or yarn.
Ring Spinning
The process of spinning yarn using tension and draft rollers to align the fibers in order for cohesion and yarn formation to occur.
Rotor Spinning
An "open end" system where fibers are reassembled and tied in by means of the rotating "open" end of the yarn.
Air-Jet Spinning
A continuous spinning process where fibers wrap around each other separately and then wrap around each other creating fiber bundles. The fiber bundles are then transformed to yarn by rotating the fiber bundles in opposite directions.
Strength
The amount of weight that it takes for a length of fiber to break.
Weaving
The method or process of interlacing two yarns of similar materials so that they cross each other at right angles to produce a woven fabric.
* American Textile Manufacturers' Association, Hoechst Celanese and Dan River contributed to the glossary.