The National Cotton Council periodically disseminates information such as news releases and articles in its newsletter, Cotton's Week, regarding Cotton Foundation projects, including progress reports and announcements of new special projects.
 
---
IMMEDIATE RELEASE

November 8, 2017
Contact:  T. Cotton Nelson (901) 274-9030  cnelson@cotton.org or Marjory Walker  mwalker@cotton.org
Midwest, Western Farmers to See High Plains Cotton Operations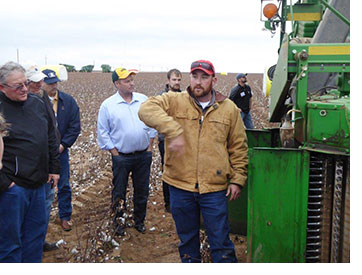 MEMPHIS, Tenn. – Farmers in the nation's Midwest and Western regions will get a unique opportunity to observe cotton and other agricultural operations in West Texas on November 12-16, as part of the National Cotton Council's (NCC) Multi-Commodity Education Program (MCEP).
Launched in 2006, the MCEP is coordinated by NCC's Member Services and local leaders and organizations. The program is supported by The Cotton Foundation with a grant from Deere & Company.
The exchange is designed to provide the program's participants with: 1) a better understanding of production issues/concerns faced by their peers in another geographic region and 2) an opportunity to observe agronomic practices, technology utilization, cropping patterns, marketing plans and operational structure. Other program benefits are the continuing dialogue among American farmers, regardless of their crops or locations, and the creation of strong and lasting relationships between this nation's current and future producer leaders.
The 2017 tour's producer participants include: Idaho – Sedar Beckman, Idaho Falls; Scott Brown, Soda Springs; Clark Kauffman, Filer; Cory Kress, Rockland; Justin Place, Hamer; and Lucas Spratling, Declo; Michigan – Dave Milligan, Cass City; Montana – Michael Konen and Mitch Konen, both of Fairfield; and Warren Lybeck, Chinook; North Dakota – Frank Laufer, Regent; Jeff Mertz, Hurdsfield; and Alan Slater, West Fargo. Also participating is Sam Butler, a New Hope, Ala., soybean and cotton producer. John Gibson, director of  NCC's Member Services, Memphis; and Susan Everett, a NCC Member Services representative in West Texas, will accompany the group.
After an orientation on the NCC on November 12, the participants will spend the next day in Lubbock at Plains Cotton Growers Association for an overview of that organization and of High Plains cotton production. They also will visit the USDA Agricultural Research Service's Ginning Laboratory and the USDA Agricultural Marketing Service's Cotton Division facility, get a presentation on cotton trait introgression during a tour of Bayer's greenhouse and laboratory facilities; and hear a presentation on cotton sustainability and marketing at Plains Cotton Cooperative Association. They will end the day with a visit to Verett Farms in Ralls for a look at spindle picker cotton harvesting.
On November 14, the participants will get a briefing on cottonseed processing and products at PYCO Industries in Lubbock before traveling to Brownfield where they will see peanut harvesting and then get a look at High Plains farm equipment at the B.E. Implement company. The group then will go to Meadow for a tour of Seaton Farms and observing custom wine grape crushing, fermentation and barrel aging at the Texas Wine Company.
The next day, the group will travel to Plainview to hear a presentation on High Plains water conservation and watering systems at the Texas Alliance of Water Conservation and then learn about soil health and fertilization techniques at Olson Farms. That day's activities conclude with a briefing on stripper harvesting and ginning at the Carson County Gin in White Deer.
On the 16th, the group will travel to Amarillo for a tour of the Amarillo Cotton Warehouse and to hear presentations on cotton warehousing, shipping and permanent bale identification. The tour concludes with visits to the Adobe Walls Gin in Spearman and Howard Farms in Dumas.
IMMEDIATE RELEASE
May 2, 2017
Contact: Cotton Nelson (901) 274-9030 cnelson@cotton.org or Marjory Walker mwalker@cotton.org
2017 P.I.E. Program Tour Dates Set
MEMPHIS, Tenn. – The National Cotton Council (NCC) has scheduled tour dates and locations for the 2017 Producer Information Exchange (P.I.E.) Program.
The P.I.E. program's goal is helping U.S. cotton producers maximize production efficiency and improve yields and fiber quality by: 1) gaining new perspectives in such fundamental practices as land preparation, planting, fertilization, pest control, irrigation and harvesting; and 2) observing diverse farming practices and the unique ways in which their innovative peers have adopted new and existing technology. A unique program benefit is that the participants get to ask questions of both the producers they visit on the tours but also from producers from their own region that they travel with during the week.
This season, Mid-South producers will visit California's San Joaquin Valley on July 17-21; Southwest producers will see agricultural operations in Georgia on July 31-August 4 and producers from the Southeast and Far West will tour two Texas cotton production regions on August 14-18.
The NCC's Member Services staff, in conjunction with local producer interest organizations, conducts the program, including participant selection. Sponsored by Bayer through a grant to The Cotton Foundation, the P.I.E. is now in its 29th year and has exposed more than 1,100 U.S. cotton producers to innovative production practices in regions different than their own.
Cotton Foundation President Gill Rogers, a Hartsville, S.C., cotton producer, said Bayer's support of the P.I.E. program continues to provide its producer participants an invaluable opportunity to boost their on-farm efficiency.
Rogers, who was a 1993 P.I.E. program participant, said at that time nobody in his area was using irrigation. He said after seeing the innovative irrigation techniques cotton producers were using in California and Arizona, he decided to begin irrigating his cotton back in South Carolina.
"It (tour) changed the way I farmed from that day forward, helped me do a better job of farming," Rogers said.
Rogers also recalled that during his Far West tour he heard from farmers who were making the effort to educate their children so they would continue to farm.
"I have never forgotten that," he said. "Everyone on the tour was very positive about agriculture and the tour was a very positive experience for me."
---

IMMEDIATE RELEASE
April 27, 2017
Contact: Cotton Nelson (901) 274-9030 cnelson@cotton.org or Marjory Walker mwalker@cotton.org
2017-18 Emerging Leaders Program Class Announced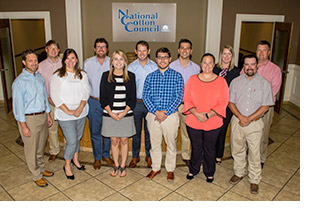 MEMPHIS, Tenn. – Twelve U.S. cotton industry members have been chosen to participate in the National Cotton Council's (NCC) Emerging Leaders Program for 2017-18.
Participants include: PRODUCERS – Blake Fennell, Earth, Texas; Jesse Flye, Jonesboro, Ark.; Richard Heiden, Buckeye, Ariz.; Justin Jones, Smithville, Ga.; and Rose Robertson, Coolidge, Ariz.; GINNER – Cacky Sobral, Wilson, Ark.; MERCHANTS – Wesley Rentz, Greenville, S.C.; Beau Stephenson, Richardson, Texas; and John Stevens, Memphis, Tenn.; WAREHOUSER – Joe Tillman, Memphis, Tenn.; MARKETING COOPERATIVE – Jayci Cave, Lubbock, Texas, and MANUFACTURER – Kimberly Bamonte, Gastonia, North Carolina.
Now in its fifth year, the NCC's Emerging Leaders Program is supported by a grant to The Cotton Foundation from Monsanto.
NCC Chairman Ronnie Lee, a Bronwood, Ga., producer, said, "We are grateful for Monsanto's ongoing support of the Emerging Leaders Program. U.S. cotton needs dedicated leaders who are committed to helping our industry maintain a competitive edge in the global marketplace. This initiative is helping to identify men and women who have demonstrated the potential for taking on this important challenge and then encouraging and equipping them for this important task."
Overall, the Emerging Leaders Program provides participants with a better understanding of how the NCC carries out its mission of ensuring the U.S. cotton industry's seven segments can compete effectively and profitably in the raw cotton, oilseed and U.S.-manufactured product markets at home and abroad.
Specifically, participants get an in-depth look at: 1) the U.S. cotton industry infrastructure and the issues affecting the industry's economic well-being; 2) the U.S. political process; 3) the NCC's programs as well as its policy development and implementation process and 4) Cotton Council International's activities aimed at developing and maintaining export markets for U.S. cotton, manufactured cotton products and cottonseed products.
The Emerging Leaders Program also provides participants with professional development and communications training such as presentation and business etiquette, instruction for engaging with the news media, and utilizing social media tools and tactics.
Class members will participate in three sessions. The first session, set for the week of June 12, 2017, in Memphis and St. Louis, will provide an orientation to the NCC, professional development and communication skills training and an agribusiness briefing. During the second session, class members will see policy development at the NCC's 2018 Annual Meeting in February. The third session, to be conducted later in 2018 in Washington, D.C., will provide a focus on policy implementation and international market development.
---

IMMEDIATE RELEASE
March 3, 2017
Contact: Cotton Nelson (901) 274-9030 cnelson@cotton.org or Marjory Walker mwalker@cotton.org
2017 High Cotton Winners Recognized
MEMPHIS, Tenn. – The 2017 Farm Press-Cotton Foundation High Cotton Awards recipients (by Cotton Belt region) are: Southeast – Ronnie Burleson/Andrew Burleson, Richfield, N.C. Mid-South – Byron Seward, Louise, Miss.; Southwest – Brent Hendon, Welch, Texas; and Far West – Mark McKean, Riverdale, California. They and their families were honored on March 3 at the Mid-South Farm & Gin Show in Memphis.
The High Cotton Awards were begun by Farm Press and the National Cotton Council in 1994 as a way to demonstrate that cotton growers and their families are concerned about the environment and are the true stewards of their land, air, and water. The program, which now has recognized nearly 100 U.S. cotton producers, is supported by a Farm Press grant to The Cotton Foundation.
Southeast winners Ronnie Burleson, and his son, Andrew, are known for their commitment to soil conservation, adapting the latest technology and going the extra mile to produce a high yielding, high quality cotton crop. Burleson and his family were the first farmers to bring cotton back to North Carolina's Stanly County in 1991 after the boll weevil — and low prices — had driven growers out of the crop. They have grown cotton every year since then, though, and plan to stay with the crop.
Mid-South winner Byron Seward, whose family has been growing cotton in the Mississippi Delta since the 1930s, became one of the first farmers there to make variable rate applications of fertilizer, using a flagging system to show the applicators where to increase or decrease the rates. The practice helped him to better match the applications with the needs of plants, while preventing the excess from running off into area streams.
Someone in Brent Hendon's family has been growing cotton in the Welch, Texas, area since the late 1920s. Hendon irrigates 75 percent of his 4,000 acres of cotton, watering with center pivots with low elevation spray application. He also employs soil conservation practices, rotation and resistant weed management.
Far West winner McKean, who has farmed for 29 years, places great emphasis on environmental stewardship, using inputs such as nitrogen, plant protection products and growth regulators sparingly – to protect the groundwater in California.
"Spraying a chemical is the last thing I want to do," said McKean, who has sprayed his cotton just once or twice per season in recent years. "Anytime you start applying chemicals, you are in a cycle of doing it again and again," McKean said. "The longer you can put it off, the better."
More information on the recipients is at http://www.westernfarmpress.com/cotton/2017-high-cotton-winners-adapt-their-operations-achieve-success.
This year's awards are co-sponsored by Americot, AMVAC, Bayer FiberMax/Stoneville, Dow Phytogen, Dyna-Gro, Helena, John Deere, Netafim and Simplot Grower Solutions.
---